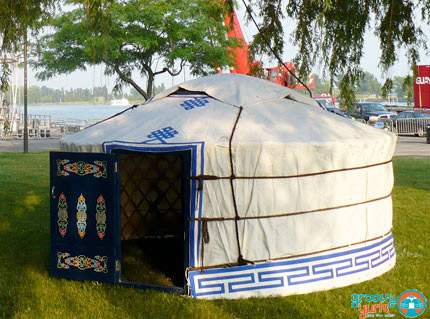 Groovy Yurts would like to welcome you into their brand new yurts!
Every Fall and Spring, Groovy Yurts' team makes a trip to Mongolia to ensure a quality control of the merchandise before they are being shipped to Canada. That way, we can guarantee the best possible quality of Mongolian skills and crafts. We also love to see how the families of the skilled men and women who work with us are doing.
Our 3-walls Mongolian yurt is complete with high quality felt insulation and hand painted wood structure, water resistant canvas as well as all necessary ropes and linings. The materials used are hand made by our team in Mongolia with natural material, making it the perfect choice for chemically-sensitive people and eco-friendly people. 
Our yurts are versatile and we have a team that will do everything it can to make it answer to your every need! You're tall and afraid you won't fit in an authentic Mongolian yurt? That can be arranged. The proof, Yves the owner is 6'5". A canvas that won't get dirty? Sure, we've got you covered. We have many different options to suit your climate and specifications.
We also offer unbeatable prices on shipping once or twice a year (Fall and/or Spring) during our delivery tour, make sure to inquire about it.
Visit www.groovyyurts.com for more information